CT Scan
What is a CT Scan?
Computerized Tomography, commonly referred to as CT or CAT scan, is an examination, which takes x-ray "slices" of you in a two-dimensional format as you move through a "donut shaped" machine. The examination is painless and most exams are completed in 30 to 45 minutes or less. Your exam is interpreted by a radiologist who in turn gives your physician a written report of the exam results. Your physician will notify you of the results.
CT allows your physician to evaluate internal organs and tissues in ways that regular X-Rays cannot.
CT Accredited Facility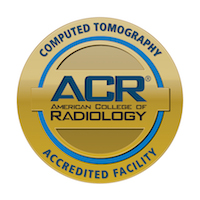 Illinois Cancer Specialists is an ACR Accredited Facility for both CT and PET. This means our facility has met the standards for the highest level of quality and radiation safety. Our staff has been thoroughly reviewed and accredited by the American College of Radiology, a national professional organization serving radiologists, radiation oncologists, nuclear medicine physicians and medical physicists.
How to Prepare for a CT Scan
If you are having a CT of your abdomen & pelvis, you will be given special instructions and something to drink prior to the exam.
Most examinations require that an IV contrast material be administered to visualize structures in the body. A blood test called a BUN and Creatinine has to be performed within 30 days of your CT exam to determine if this contrast material can be given.
It is important to let us know if you are allergic to iodine or x-ray dye.
If you have had an exam at another facility, we will need you to bring the films for comparison. It is your responsibility to acquire and bring these on the day of your exam.
Insurance
Our Patients Accounts Department will seek prior authorization for the procedure and assist you in filing insurance claims.
Day of Exam
You will be asked to fill out a short medical history form.
You will be given additional contrast to drink if you are having a CT of the abdomen and pelvis.
Some CT exams require a gown to be worn.
You will be laying down on a table that moves through the scanner.
If you have received the IV contrast, we encourage you to drink extra fluids to "wash out" the contrast.
Always feel free to ask questions.